CIMCON XLAudit 4.8 enables self-attestation right from Excel making it easier for those in the line of business to fulfill their EUC Risk Management obligations.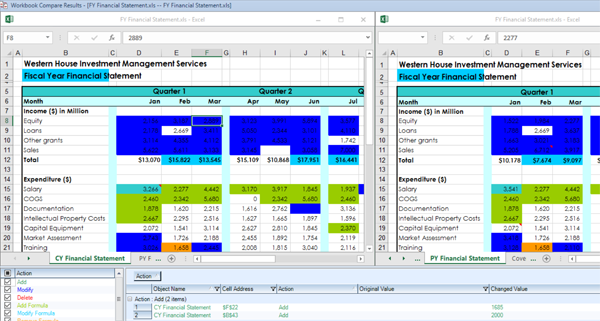 CIMCON XLAudit Breaks Down the Barriers to Reducing Spreadsheet Risk -- End-User Adoption
Putting attestation directly within Excel to make it easy for 1st

Line of Defense
We're excited to announce the latest release of CIMCON XLAudit 4.8 is now available. There are several great new features that both risk and finance professionals will appreciate!
Risk & Criticality Attestation From Within Excel
Risk professionals will welcome XLAudit's embedded risk & criticality assessment capability. It breaks down the toughest barrier to reducing EUC risk – end user adoption. Assessment forms are built directly in Excel – right where the business people work – so it becomes a seamless, easy process to fulfill their role in risk management. It's a win-win: the business remains fully productive in their spreadsheets while risk management fosters stronger participation further reducing EUC risk.
The risk & criticality assessment lets you risk assess all spreadsheets in a consistent & quantitative manner. It's fully configurable, so you can design a standard set of questions that end users answer for each spreadsheet. This replaces subjective opinion and delivers an objective evaluation of spreadsheet risk across your organization. You can view a demonstration of this new feature here.
Automated Model Sensitivity Analysis
New for Excel users, XLAudit 4.8 empowers you with an automated way to run what-if analyses to test your model assumptions. It streamlines the traditional process by letting you quickly configure inputs and value ranges for all of the scenarios you want to test. With one click, XLAudit graphs the results. You will save tons of time programming and analyzing!
Faster, Easier Spreadsheet Analysis
As always, we continue to streamline XLAudit so that the user experience is fast & easy. As we say at CIMCON, a fast and easy spreadsheet error diagnostics leads to more frequent analyses and fewer errors. We want our users to shine! In this new release we've added several productivity enhancing features in support of ease-of-use.
Availability
CIMCON XLAudit 4.8 is available immediately. To learn more about XLAudit check out these demo videos.
To start free trial or purchase your own copy, visit us at: CIMCON.com .